The 1843 original Horn & Hardart Automat building was a 24,000 square foot historical landmark in Philadelphia that still stands today. Located in the heart of Philadelphia on Jewelers Row near Thomas Jefferson University, Horn & Hardart's Automat's revolutionized the way Americans ate when they opened up in 1902 – complete with coin-operated glass-and-chrome order compartments. The Automat was a culinary treasure, a technical marvel, and an emblem of the times. Over 100 years later, the Automat building is revolutionizing the way Americans live.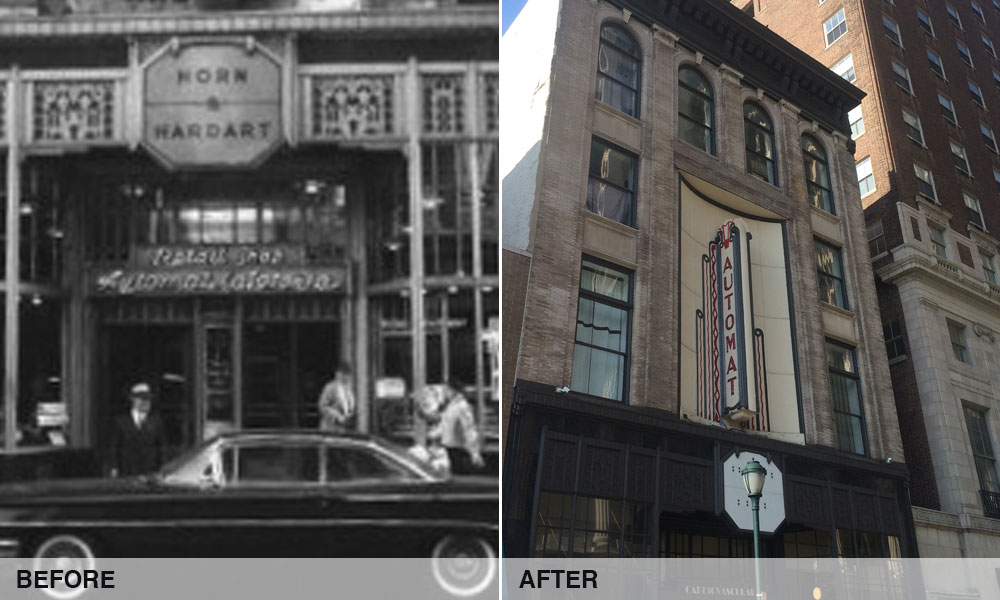 Posel Management Company paid tribute to Philadelphia's history by completing a historic rehabilitation of Horn & Hardart's Automat. After converting the first floor into a 10,000 square foot cardiology office, Posel transformed the second, third, and fourth floor into 18 luxury apartments.

While keeping the building's original architecture intact, Posel was able to recapture and engineer creating lobby space on both Chestnut and Sansom Streets and add elevators and new stair towers to modernize the building. Paying homage to the authentic Horn & Hardart Automat building, Posel worked with the national, state, and local historic commissions to restore the building to its original glory. The restoration process included refurbishing the original 18 ft. tall Automat marquee sign and obtaining Philadelphia Historic Commission's approval to create new façade entries.


Today, the Automat provides contemporary living blended with rich historic characteristics such as exposed brick and columns. The apartments are one and two bedroom with luxury finishes such as: expansive ceilings, balconies, oversized windows, designer kitchens, wide plank maple hardwood flooring, walk-in closets, and highly energy efficient construction. Each set of 9 boutique apartments has its own entrance and elevator. Additionally, all units are leased and the building maintains a high tenant retention rate.